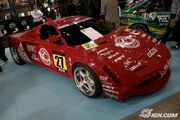 The Yamasa Raggio (Possibly also known as Red Comet) is presumably the high peformance version of the Raggio. Not much is known about this car since there are not many sources to explain it, but the only reason it's better than the original one is - it's a real-life car based on a Honda NSX. It is an unlockable Special Machine that appears in Ridge Racer 2 (PSP).
Description
It is a red car surrounded by advertisements. Its number is 27 and its trademark logo seems to be a mermaid swimming.
This car was the one and only Ridge Racer car that was made into real life. This designer car was shown in the 2006 Tokyo Auto Salon, made by Project Mu with permisson of Namco. It was powered with the original NSX 3.2-litre V6 with DIC-R fuel injectiors, with many extras like an ARC intercooler and an ORC clutch, commissioned by Yamasa, a Pachislot maker company. Instead, it was drivable and performed better than the original NSX.
In Ridge Racer 2 (PSP)
It is classified as SP2 (Special Machine 2). In the Deuce Tour of Ridge Racer 2 (PSP), the player will have to race against four special machines, these are the Age Crinale Kid, Age Angelus Kid, Namco Pac-Man, and Yamasa Raggio.
To unlock this car, complete the "Red Comet" tour consisting of two rounds at the EX Revolution Road.
Trivia
Yamasa Raggio's challenge name, Red Comet, appears to be a tribute to Mobile Suit Gundam's infamous villain Char Aznable, which shares the same nickname, and (in)famous for pilotting a customized red mobile suit that is "three times faster than a normal unit".
It is referred as Yamasa Raggio instead of Soldat Yamasa Raggio despite it being manufactured by Soldat.
It is the only Ridge Racer 2 car which its colour cannot be changed, but instead just remain red.