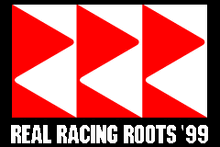 Real Racing Roots is the name of Ridge Racer Type 4's Grand Prix mode. As of the 1999 season, four teams and four manufacturers compete in a season held in two countries, Japan (with Fukuoka and Yokohama being the host cities) and USA (with New York and Los Angeles being the host cities).
It was established by Louis Âge, the founder of his namesake brand. Real Racing Roots can somehow be Ridge Racer's equivalent of either Formula One or the FIA World Endurance Championship.
It is presumed that after Ridge Racer Type 4, the racing series might have folded, or might have lived on in the later games (even in Ridge Racer V, PSP and 6) before being renamed to the UFRA in Ridge Racer 7.
Rules
The Grand Prix consists of 3 Heats, with a total of 8 races. The 1st and 2nd Heats each consist of 2 races while the Final Grand Prix consists of 4 races.
The driver has 4 chances to advance through each race. Finishing within a qualifying position lets the driver advance through the Grand Prix. Failure to do so will result in retirement from the Grand Prix.
The qualifying position for each stage is as follows:

3rd or better in each race of the 1st Heat
2nd or better in each race of the 2nd Heat, and
1st place in all 4 races in the Final Grand Prix

To win the Grand Prix, the driver must advance through the first 2 Heats, and place 1st in all 4 races of the Final Grand Prix
Timeline
1949 - Founded by Louis Age. Inaugural season held in Avignon, France
1965 - Assoluto debuted in RRR
1967 - Racing Team Solvalou entered Real Racing Roots. Enki Gilbert retired at racing at this point.
1975 - Rules revision to 8-course survival battle
1986 - Incident occured in the Shooting Hoops race track, where Giuliano Gilbert, son of Racing Team Solvalou president, Enki Gilbert, was killed in an accident by fellow Racing Team Solvalou driver, and founder of Pac Racing Club, Shinji Yazaki.
1987 - 19th Real Racing Roots held in Chicago, USA
1991 - Revision of rules, with new qualifying conditions to four category systems, each based on the performance level of cars sanctioned by the series.
1993 - Introduction of 350 km/h maximum speed limit, in order to promote safety during high-speed racing, which was one of the flaws back in the 1986 season.
1996 - Introduction of Reiko Nagase for the 1997 season
1997 - Rage Racer takes place, Gnade withdraws at the end of this year
1999 - Introduction of two-country system, in both the United States and Japan, where Ridge Racer Type 4 takes place.
Teams
Manufacturers