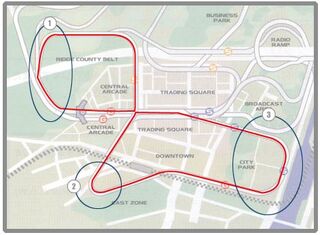 Park Town
is a course introduced in
Ridge Racer V
.
Besides the Airport Oval, Park Town is the shortest course in the game. The course takes you in a figure eight lap around the center of Ridge City, never leaving the sight of the cities many skyscrapers. It also has a lot of elevation changes, usually in the form of little bumps which may send you into the air.
You start the lap heading into the Central Arcade area and through the tunnel at its edge.
Follow the right bend in the tunnel and up a little incline which puts you out onto a road leading up onto a skyway which then crosses over the starting line and heads for one of the sharpest turns in the game.
Just a little further down the road you'll reach one of the toughest sections in the game to navigate, especially at high speeds. It's a pair of lefts that take you 180 degrees around a parking lot. After that it's basically a straight shot to the finish line.