"A new Japanese team competing for the first time this season. Their cars are tuned for balanced performance."
―R4: Ridge Racer Type 4 (Grand Prix mode team blurb)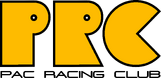 Pac Racing Club (PRC) is a Japanese racing team in R4: Ridge Racer Type 4, that had debuted in the 1999 Real Racing Roots season. The name was based on Namco's game Pac-Man. PRC is managed by Shinji Yazaki. The team is best at tuning Terrazi cars. Players experiences amateur, yet experienced drivers. Their tuning is mostly concentrated on well-balanced cars.
Their main colors are red and yellow and their number is 76 (the "76" number is definitely a 2-digit reference to Namco's goroawase number: 765.).
Manager
"That was my mistake. As his teammate, I should have yielded my track position to him [Giuliano]... It was as if I killed Giuliano myself. The press hounded me to death and I thought I would never come back to racing. But the years helped me deal with that mistake... To redeem myself, I wanted to keep a promise I made with Giuliano - to win the RRR Grand Prix."
―Shinji Yazaki, reflecting on the incident with Giuliano Gilbert, after player wins the Heaven and Hell race

The team's manager is Shinji Yazaki, a former racing driver from Racing Team Solvalou who was demonized in the press as the "Grim Reaper" after being involved in an accident that resulted in the death of co-driver Giuliano Gilbert, Enki Gilbert's son, during the 1986 Real Racing Roots season.
Haunted by this, he became deeply cynical and pessimistic, initially treating the player with condescending contempt. But when an article about Giuliano's demise appeared in the press, Yazaki came clean about his past.
Trivia
Reiko Nagase, R4's mascot, is apparently a PRC fan, shown by a fax mail she sent to PRC in one of the post-race cutscenes (after winning the Phantomile race).
Before founding PRC, Yazaki was racing for RTS from 1983 to 1986.
Shinji Yazaki is 36 years old when Real Racing Roots 1999 takes place.
Given Yazaki's background and personality in the entire story during the PRC playthrough, it may suggest that Yazaki could potentially have PTSD (post-traumatic stress disorder) due to the incident that caused Giuliano Gilbert's death in 1986 during his time as a Racing Team Solvalou driver.
The car's hood mentions that the Pac-Man series was at its 20th anniversary by the time the game is released.

The decal was unchanged in the PRC livery used in Assoluto Promessa in Drift Spirits, likely so that it now stands for the 20th anniversary of R4's Japanese release instead.