The Assoluto Bisonte is a sports car made by Italian car company Assoluto.
It has appeared in the series since Ridge Racer Type 4 and was even the hero car of the game and even the intro movie, sporting a unique silver and blue livery synonymous with Racing Team Solvalou.
It has then been a supporting car in the covers of both Ridge Racer 6 and 7.
In Ridge Racer 6 and Ridge Racer 7, the Gaplus paint design is similar to the original Racing Team Solvalou skin from Ridge Racer Type 4.
Ridge Racer Type 4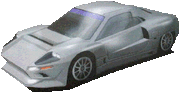 This is one of the car featured in R4's intro movie, alongside the Lizard Detector, Age Solo Dirigeant and Terrazi Troop. It features an aggressive-looking body, with its sharp front end complimented by a large front splitter and overall very angular design. Power comes courtesy of an overhead valve 3.0 liter V8 engine mated to a 5-speed transmission.
Styling-wise, the front end resembles that of the Ford GT40, albeit much more flat, and the side profile and rear are based off of the Ferrari F355 Berlinetta, with similar taillights to a 1986 Toyota MR2 SC.
This variation also appears in Ridge Racer 64, representing and in colors of Racing Team Solvalou.
"Assoluto has skillfully combined ruggedness and luxury on its flagship sports car, Bisonte. It is the favorite among fans of the super car generation."
Made In: Italy
Drift Type: Standard
Engine: V6
Max RPM: 10000
Length: 169 inches
Width: 78 inches
Height: 43 inches
Max Speed: 149 mph
In the PSP titles, the Bisonte retains its low-slung profile but experienced a significant change in design. It now features a more rounded shape. Power comes from a V6 engine, initially mated to a 5-speed transmission but its Class 5 iteration of the car is fitted with a 6-speed transmission. The car's drift type is now Dynamic.
The new design is reminiscent of the Nissan 300ZX (although mid-engined), with bits of the Ford GT '05, despite the car looking much more sleek and round in shape.
"The Bisonte, a pure racing machine from ASSOLUTO, is hand crafted using many custom materials- the reason for its high price tag. Few drivers are able to experience its amazing capabilities solely because of its price. A luxurious, but excellent, rare machine with precision handling."
Specs (Ridge Racer 6):
| Class | Engine | Top Speed |
| --- | --- | --- |
| 2 | 3.0 liter V8 DOHC | 248 km/h |
| 4 | 3.0 liter turbocharged V8 DOHC | 313 km/h |
The Bisonte undergoes another model change for the Ridge Racer 6. This time, it features a 3.0 liter double overhead cam V8 engine. It excels on the acceleration department, but hampered by a somewhat low top speed. At this iteration, it's a Standard-type car, meaning it has balanced drifting characteristics. For its Class 4 set-up, a turbocharger is added to the engine.
In Ridge Racer 7, the Bisonte returns in its Ridge Racer 6 form, but is now a Category 2 machine, putting it equal to the Fatalita, with the only difference being the Bisonte has slightly slower top speed, but more agile through the corners, with the car notable for having excellent ultimate charge characteristics. A special Complete Machine variant is available in Category 2, obtainable by earning 100 manufacturer's points with Assoluto.
This variant of the Bisonte still resembles the Ford GT '05, although the design is much more aerodynamic and round, and that its length and width are much shorter.
| Category | Stage 0 | Stage 1 | Solvalou | Druaga | Zolgear |
| --- | --- | --- | --- | --- | --- |
| 2 | 307 km/h | 313 km/h | 317 km/h | 319 km/h | 315 km/h |
| 1 | 326 km/h | 333 km/h | 338 km/h | 339 km/h | 335 km/h |
Specs:
Drivetrain: RWD
Speed: 2/5 (142mph/231km/h)
Acceleration: 2/5
Handling: 2/5
Strength: 2/5
Drifting: 5/5
Ridge Racer Slipstream (iOS)
Specs: Class 02
Top Speed: 270km/h
Acceleration: 18.20s
Grip: 1.81G
Drift: +13%
Price: 60000
CM edition
Top Speed: 285km/h
Acceleration: 17.30s
Grip: 1.95G
Drift: +14%
Price: 250RR
"Meaning "bison" in Italian, the Bisonte is one of Assoluto's signature machines and first debuted in 1998. During its 2008 10th-year anniversary, the "il colori" series was suddenly announced, a move that left a deep impression on spectators. After several years of silence, the new Bisargento, adding on the Italian word for "silver", made its debut. Assoluto's brand-new "silver bison" is now ready to inspire and amaze its rivals."
The car was renamed to "Bisargento" (literally meaning: "silver bison"), referencing its silver and blue RTS livery, and that it was based off of the original Bisonte from Ridge Racer 6 and 7, with minor facelifts, such as the headlights and taillights.
It still retains the V8 engine and six-speed gearbox as its predecessor, as otherwise, it is very much the same car as it was from Ridge Racer 6 and 7, albeit renamed and with these minor cosmetic updates.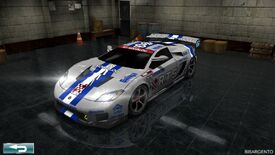 This specification appeared in Drift Spirits as one of the cars featured in a Ridge Racer collaboration event held in December 2018, with no major changes.
Trivia
The Bisonte may be the Ridge Racer 4's cover car (alongside the Terrazi Troop), but it is given to you only if you don't perform your best throughout the early parts of the game, which may be the reason why the Fatalita is a grade higher (in the latest RR series).
The RR4 Bisonte appeared as a special class car in RR Accelerated for the iPhone and iPod touch, and reaches speeds up to 389 km/h. With nitrous, it can hit 459 km/h (approx. 285mph).
The RR4 Bisonte is also one of the pre-order bonus cars, along with RC410 and the original Fiera in Ridge Racer Unbounded under the name "Ridge Racer Type 4 car".
Bisonte means "bison" in Italian and Portuguese. A bison is a bull-like animal, and is thus, is a reference to Lamborghini naming their cars after bulls in the world of bullfighting.
In Ridge Racer Vita, the name was changed to "Bisargento" which literally translates to a "silver bison", which is a reference to the car's iconic silver and blue Racing Team Solvalou livery, and that the Bisonte was very synonymous with the team.
Also in Ridge Racer Vita, there is a special paint job for Bisargento that features Chihaya Kisaragi, the character from The iDOLM@STER. It can be downloaded, but is exclusive to the Japanese version of the game, and for Japanese PlayStation Network accounts.
In Ridge Racer 7, the Bisonte is only 1 km/h slower than the Fatalita (with the Solvalou engine tuning setup). The Bisonte also corners better than the Fatalita with the Astraroth tires and suspension setup (with its grip on HI).
To get the Bisonte in Ridge Racer Type 4 follow this pattern in the grand prix: Heat 1: 2nd, 2nd. Heat 2: 2nd, 2nd - then you can collect the Bisonte for both 2nd heat and the final heat.
In Ridge Racer Slipstream, the Fatalita was mistakenly referred to as the Bisonte (as it had used the Fatalita model), but has since reverted to the original Fatalita name in a game update.
In Ridge Racer 6, the Bisonte is said to cost over $700,000 based on its description, due to the craftsmanship (the car was completely built and assembled by hand), lifetime warranty, quality and custom materials that were poured in towards the development of the car. This could possibly be a nod to high-end supercars, often those which are limited edition models, where owners have the freedom to configure the spec of their car to make it look bespoke, with regard to options such as custom colors/liveries, materials and other such features, sometimes even wheel design, engine, drivetrain and/or transmission options, all straight from the factory.
Gallery